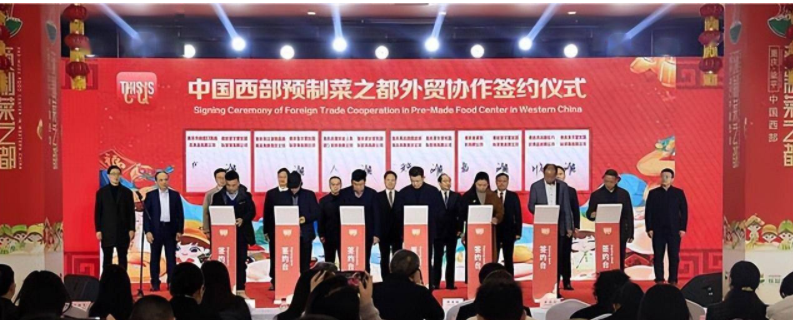 Ms. Nicole Li,head of Chongqing Centre, CUKBDC, attended a series of events promoting international cooperation in the pre-made food sector, including the signing ceremony & site visits, 2-4 February 2023.
Liangping district, Chongqing, is renowned for pre-made food, which is growing rapidly in China in recent years.
Accompanied Chongqing Municipal Commission of Commerce, district leaders of Liangping, Nicole also visited the exhibition hall, operation centre, distribution centre and Chongqing Shugu Farm.
2023年2月2日-4日,英中商业发展中心受邀参加在重庆市梁平区举行的中国西部预制菜之都外贸协作签约仪式。

签约仪式当天,英中商业发展中心重庆中心总经理黎泓杉女士与重庆市商务委及梁平区领导、重点企业一起前往中国西部预制菜之都展览馆、体验馆、运营中心、陆海优品预制菜集散中心和重庆数谷农场等地参观考察,全面了解梁平区预制菜产业发展、农产品供应基地建设和乡村振兴等情况。