The very first senior level government delegation visited UK - The UK-China Business Development Center welcomes Mayor Tang Feifan from Ningbo, China

疫情后首个中国政府高级别代表团访问英国
– 英中商业发展中心热烈欢迎宁波市市长汤飞帆一行
2月15日,英中商业发展中心主席John Mclean在伦敦热情欢迎宁波市市长代表团一行来访。
On February 15, John Mclean OBE, Chair of the UK-China Business Development Center warmly welcomed the delegation led by the Mayor of Ningbo in London.
John Mclean主席在欢迎致辞中指出,疫情三年给全球带来很多的变化,对于英国来说,现在是时候更新与中国的接触并积极推进双边关系了。英国正致力于成为全球化的英国,它在金融、技术和创新方面具有突出的实力。宁波是一座充满活力的城市,拥有一流的港口,经济发达、国际交往活跃,是一个开展经贸合作的好地方!英中商业发展中心在浙江的团队长期深耕当地,我们对继续推动英国和宁波的合作充满信心!
In his welcome speech, John indicated that over the last three years, Covid has created some geopolitical headwinds, however, we are now entering calmer covid waters and for the UK, it is now time for us to refresh our engagement with China and positively progress our bilateral relationship. The UK is committed to becoming a global UK with outstanding strengths in finance, technology and innovation. Ningbo is a vibrant city with a first-class port, developed economy and active international engagement. In our eyes, it is a good place to do business! The team of the UK-China Business Development Center in Zhejiang has been cultivating the local area for a long time, and we are full of confidence in continuing to promote the cooperation between the UK and Ningbo!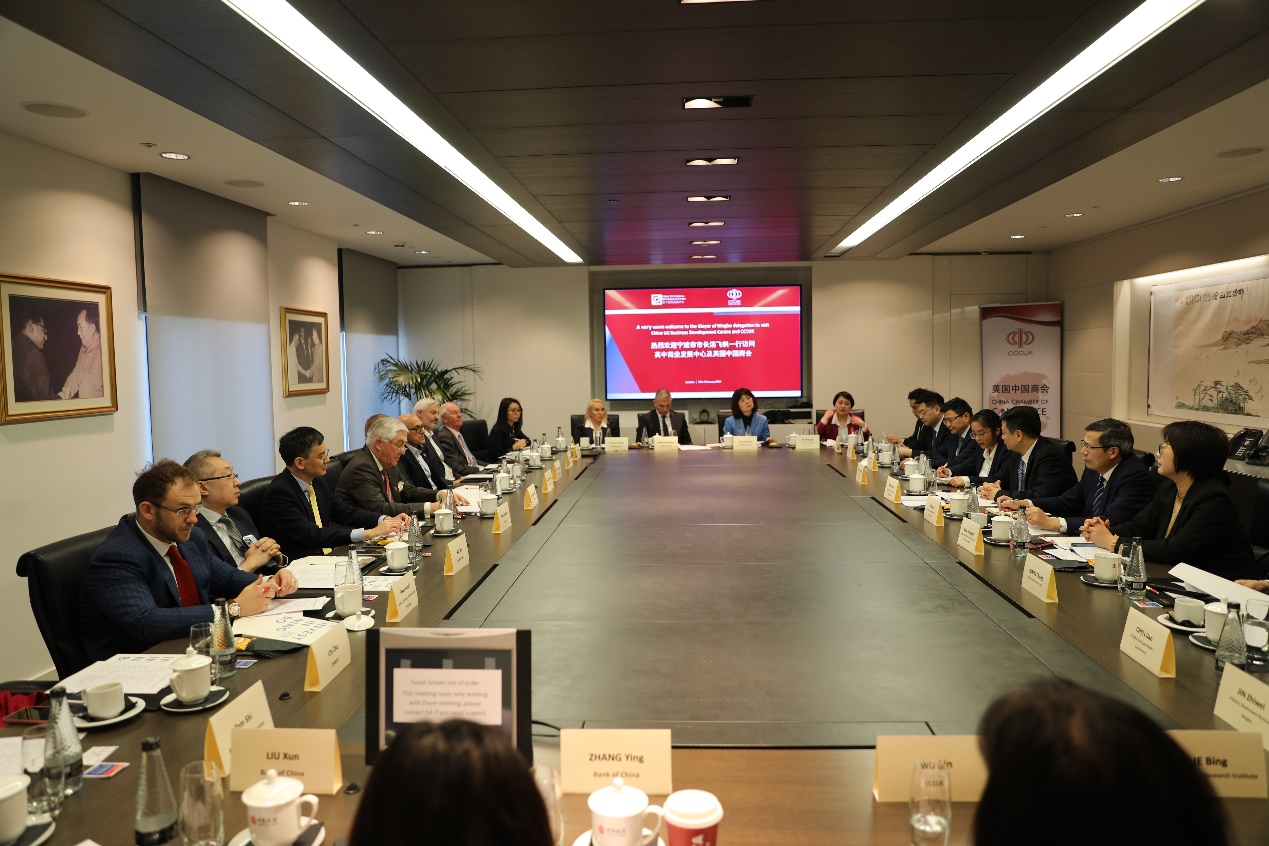 英中商业发展中心CUKBDC的作用是创新、试点、合作和执行,为中英商业合作创造新的方法。目前CUKBDC正在伦敦积极筹备中国会客厅。中国会客厅旨在成为一个虚拟枢纽,目的是促进中英之间即时和集中的联系,为两国的利益相关者及来自商业和学术网络的合作伙伴提供中英一站式服务!
The role of CUKBDC is to innovate, pilot, collaborate and execute, creating new approaches for UK-China business collaboration. At present, CUKBDC is actively preparing the Chinese Lounge in London. The China Lounge aims to be a virtual hub with the aim of facilitating instant and centralized connections between China and the UK, providing a one-stop China-UK service for stakeholders from both countries and partners from business and academic networks!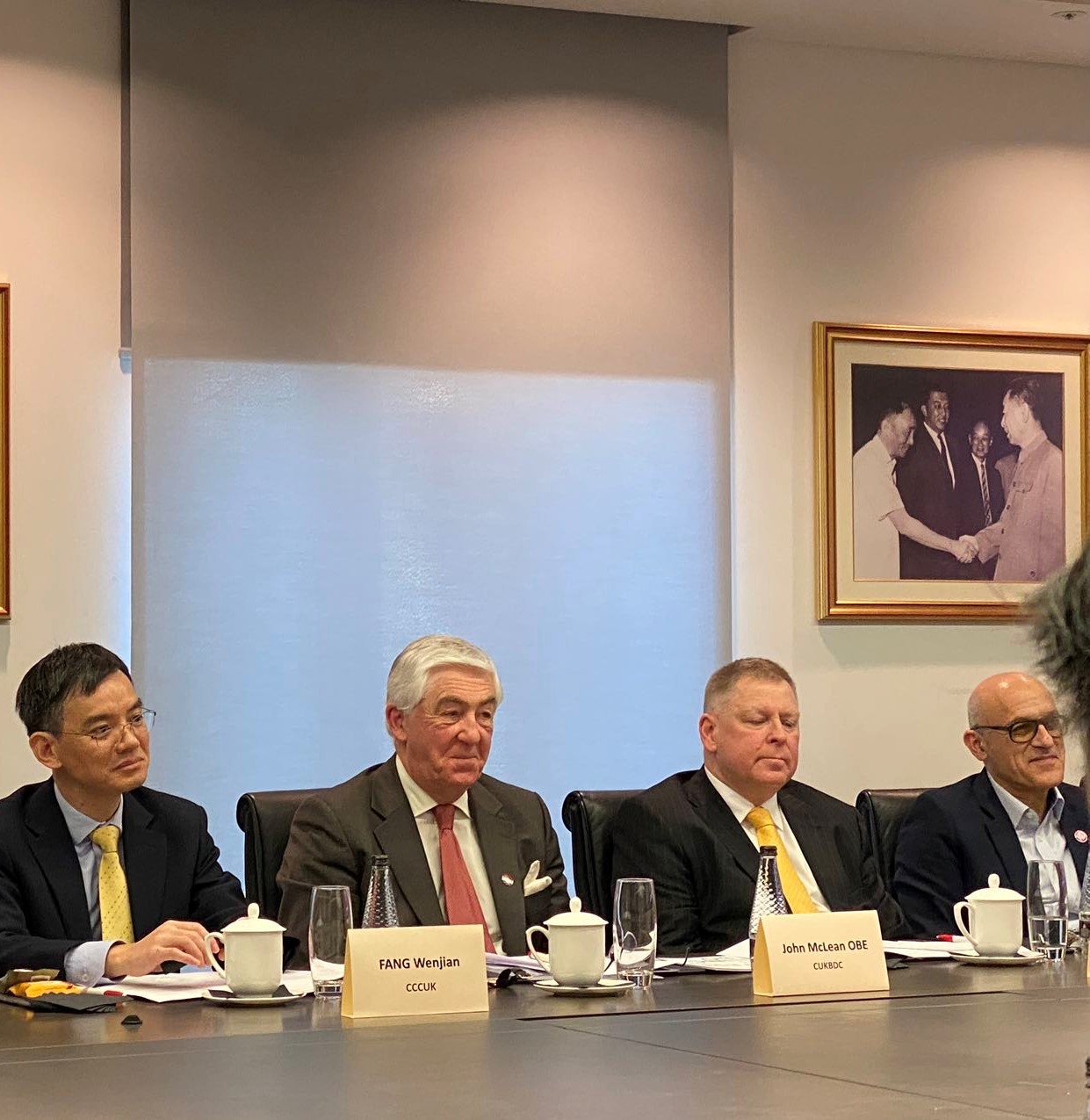 英中商业发展中心同时邀请了英国来自新能源、金融科技、基金、投资、法律服务等领域的十余家英国公司及部分在英国市场获得显著成功的中资企业代表,与宁波市政府代表团进行了合作对话与讨论。
The UK-China Business Development Center also invited a number of British companies from sectors like new energy, fintech, funds, investment and legal services, as well as representatives of some Chinese-funded enterprises that have achieved remarkable success in the UK market, to join the productive offline dialogue and discussions with Ningbo delegation.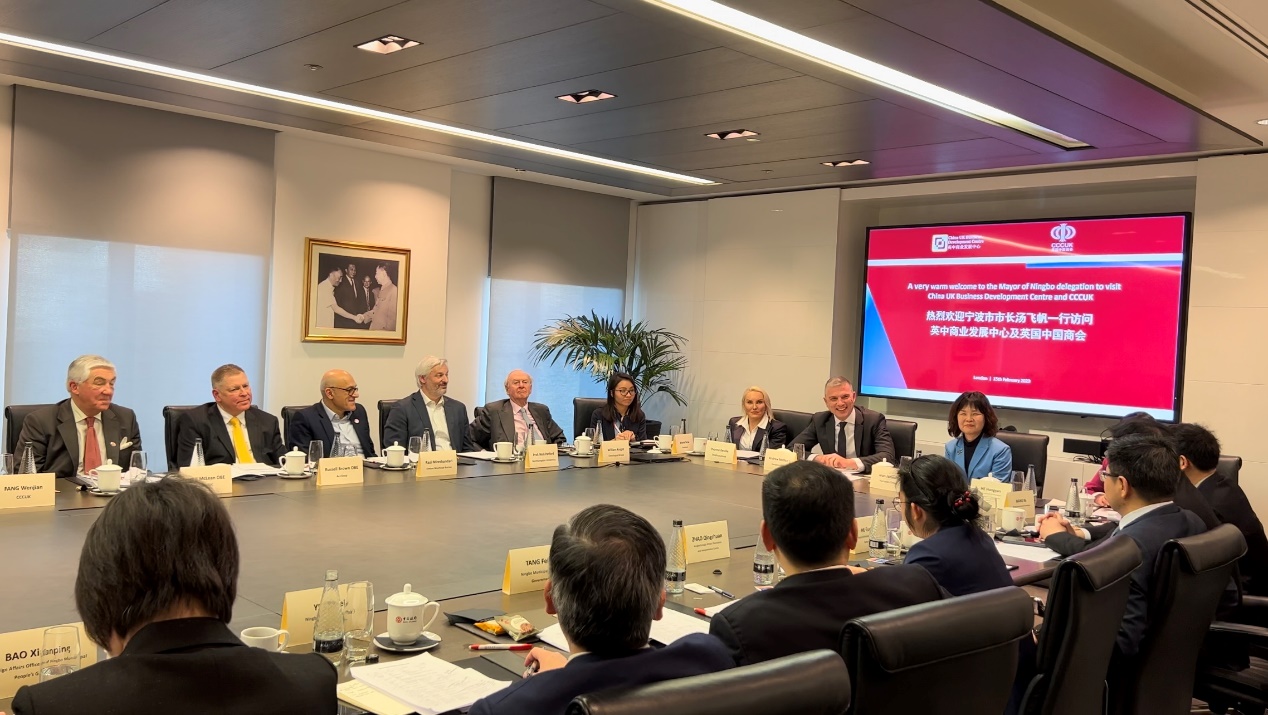 汤飞帆市长在对话会上介绍了宁波市近年来的最新发展情况,并向与会英国企业发出热情邀约,欢迎大家到宁波走访考察,共谋合作。
Mayor Tang Feifan introduced the latest development of Ningbo. He also extended a warm invitation to John Mclean, Chair of the UK-China Business Development Center, and the UK attendees to visit Ningbo soon.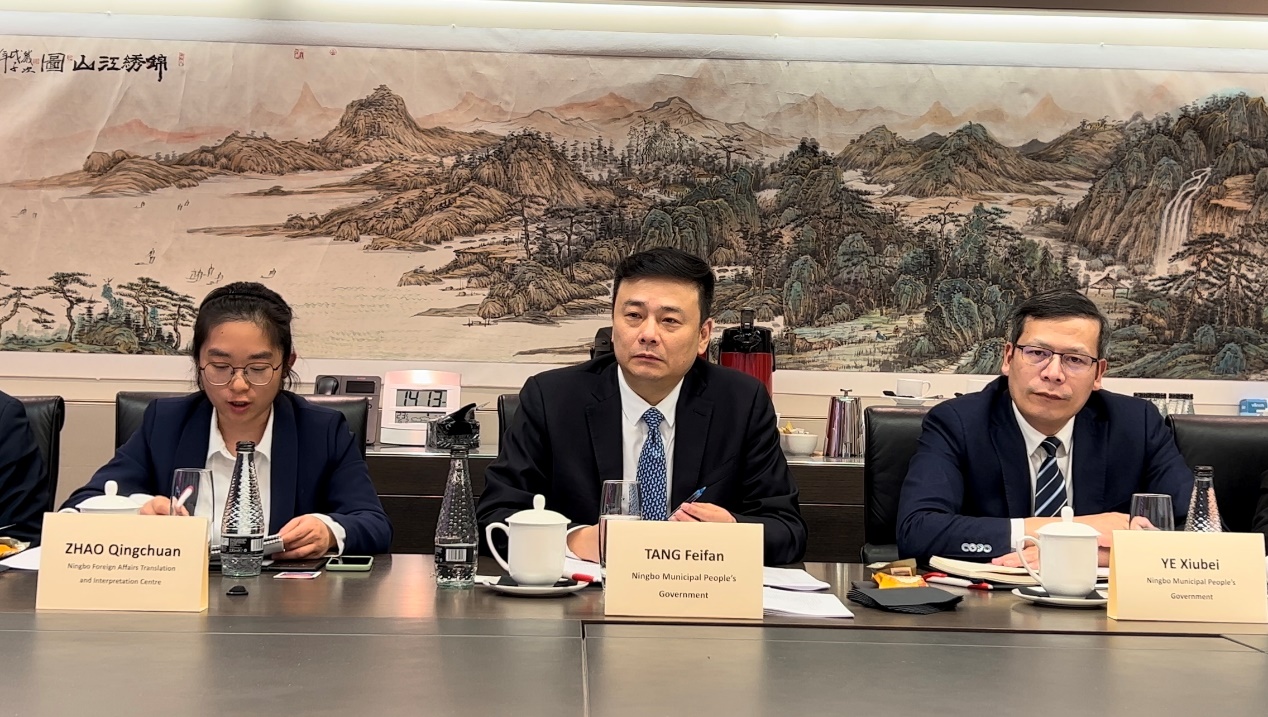 CUKBDC同时邀请了英国中国商会CCCUK作为合作伙伴共同举办了此次活动,英国中国商会会长、中国银行伦敦分行行长方文建出席活动。
CUKBDC also invited the Chinese Chamber of Commerce in the UK CCCUK as a partner to co-host the event. Fang Wenjian, Chairman of the Chinese Chamber of Commerce in the UK and President of Bank of China London Branch, attended the event.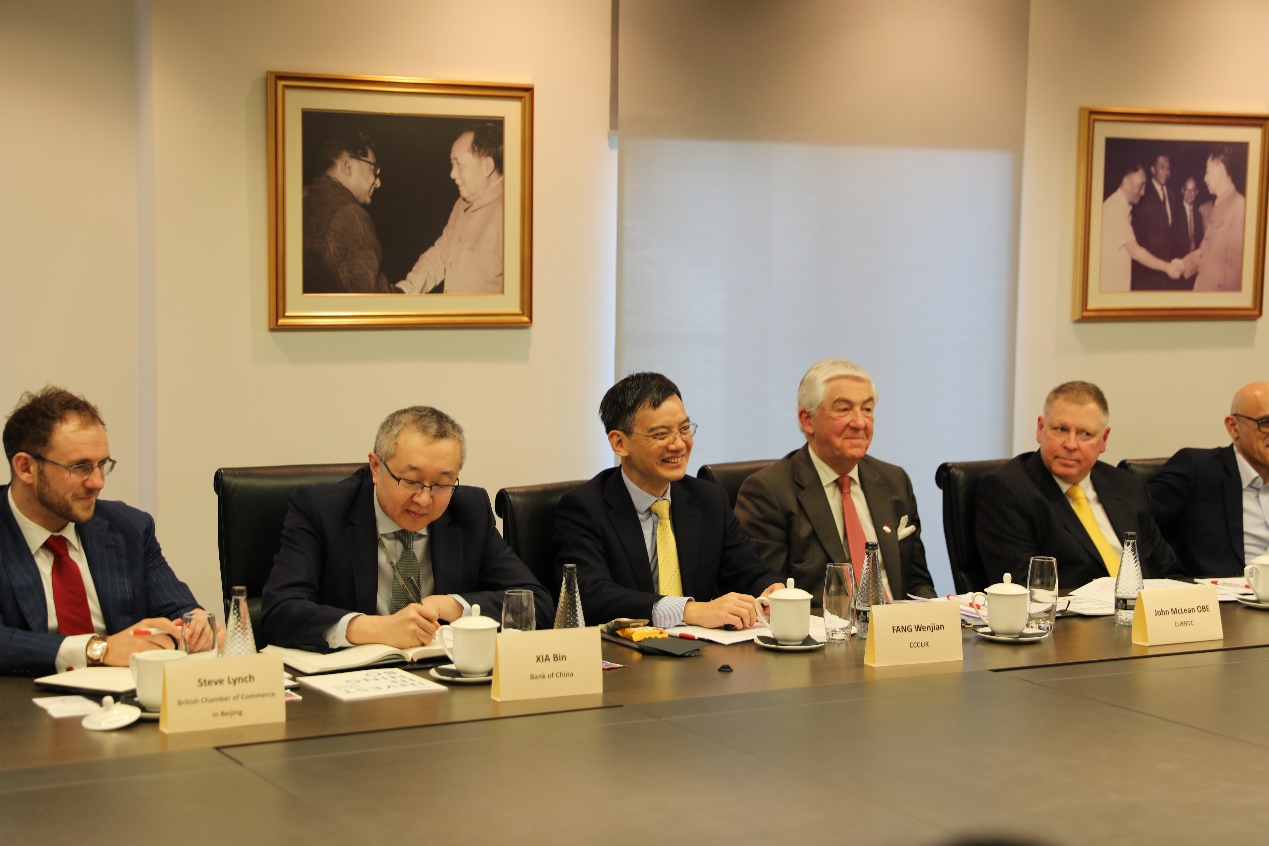 通过本次活动双方达成共识,将围绕此次活动所共识的领域和产业,形成合作机制,继续共同工作,为宁波市招商引资、扩大外贸以及英国技术、服务、资本等优势领域助力宁波发展创造新的项目和机会。
Through this event, CUKBDC and Ningbo government has reached a consensus, and will form a cooperation mechanism around the fields and industries agreed upon in this event, continue to work together, and help Ningbo develop and create for investment promotion, foreign trade expansion, and British technology, service, capital and other advantageous fields. New projects and opportunities.